One of the most challenging tasks when designing software is the tracking of time and task management. There is always a balancing act between implementing a system that suits the needs of the administrative staff, and one that helps and doesn't impede field staff.
Field staff want a straightforward product that assists them in their work and is simple to use, otherwise there is a risk they will circumvent the app.
The reason a product like this is of importance is because administrative staff want to have the ability to use the power of the data collected.
This allows gaining insight into employee efficiency, productivity and tracking true job costs, while also forming the capability to review performance of both staff and process. 
There is a great need to find a sweet spot that offers maximum benefit to all roles.
A good example may be an auto technician about to start work on a vehicle. He knows the vehicle needs new brake pads and discs, but during that work notices a brake line is corroded, rusted and a tie rod end is loose.
Solution 
What is the most efficient way to address the problem of keeping time of each individual repair? While at the same time not spending unnecessary time changing and shifting from estimated task to estimated task? 
There is little to be gained by him having to clean his hands and reset his time for each task, rather it makes more sense to record his total time and the tasks completed.
Once the work has been completed, he can view his total time and allocate an amount for each task, this can be accompanied by some form of validation to keep tasks within acceptable time limits. This eliminates time and task management interruptions and doesn't distract him doing what he does best.
For example, if the total time taken by the mechanic is 30 minutes to complete all repairs, he would then show how much time he spent on each individual repair once they are completed. Rather then going back and forth between repairs to note time taken.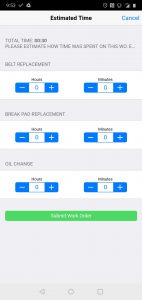 Conclusion
The overall estimation technique has proved to be the most effective method of allowing businesses to allocate time to tasks and jobs, and then accurately record that information.
This easy to understand illustration is one of the many ways in which Lexul will study the requirements of your business and propose a solution that is a best match for all roles within your company.

Are you ready for a solution?
Contact Lexul today!