As the overall cost of wages continues to rise, so does the lifetime value of documentation. Is your company properly prepared for what's to come in the future?

Inflation is on a steep rise and is looking like it will continue—with wages following right along with it. As a whole, in the last year, the national average for wages grew by 4.4%. In the Trades and Transportation industry alone, the national wage has grown by a whopping 7.1%, totaling 8.4%, resulting in an average of 27.88 USD per hour. That's a major increase!


https://workforcereport.adp.com/

Wouldn't it make sense to have a remarkable recording and documentation system in place, so as to create a concrete database for all employees and employers? Making accessing knowledge, data, assets, and so much more, more affordable as time goes on? This would cut down on employee costs and would create a well oiled and efficient enterprise. 
Cost of documentation
Implemented properly, there is little to no cost to create documentation. The information is typically needed for accurate and effective billing.
a. Here are some examples of what is typically collected:
Location, Customer

Asset (equipment, building, jobsite, etc) 

Parts used (part numbers and quantities)

Service performed

Inspection pictures

Technician notes (Why something took longer or shorter than expected
b. All of this can be helpful for future jobs but is all essential and needed for the current job at hand.
Cost to access documentation is typically higher than cost to create in traditional systems. However, in next gen systems you can make it seamlessly easy to see asset history, while quickly reference history of like assets for the same service items. Meaning quicker workflow, and saving pointless extra calls and communication.
Value of documentation
Documentation has an immense value, and is well worth the time to have a system in place in order to achieve it properly. Here are some things to consider when looking for the value of documentation and recording information: 
Quickly know parts used related to an asset from a past job

Notes from the technician as to why the task took longer or shorter than expected

Added details needed for addition instruction or information 

Record customer wants/needs and requests

Save time when searching for knowledge 

Learn from past mistakes or what worked well 

Accurate replication and invoicing consistency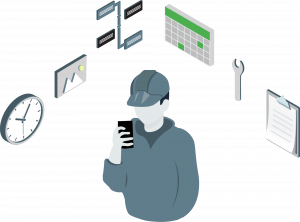 Really, you can go on and on about the benefits of properly documenting the start to finish process of any job site or task. 
At Lexul, we streamline your business processes from audit to invoice for a hedge on rising wages and inevitable inflation.
Looking for business protection? Contact us today at 906-523-2727